Hello and welcome to this issue of Knitting Know-How.
In this issue:

Buttonholes: Video demonstration of both single stitch buttonholes, and buttonholes where you cast off two stitches and then cast them on again to make the buttonhole.
The Secrets of Knitting For Profit: Book review of a book by Liz Raad covering everything you might need to know about using your knitting skills to turn a profit.
And remember, if you have any knitting related questions, drop me an email and I'll not only try to answer them for you, but I'll also choose one or two to answer in the next Knitting Know-How.

Knitting Buttonholes
Following publication of the last Knitting Know-How I received an email:
Mary wrote: "When making buttonholes where you cast off 2 or 3 stitches on one row and then cast on 2 or 3 stitches on the next row, what's the proper way to cast them on?"
This video will answer that question and also show how to make smaller buttonholes over just one stitch that you might use on a child's cardigan.
The Secrets of Knitting for Profit by Liz Raad
This a 130 page ebook available from Knitting For Profit.
The author tackles her subject well and I felt the book was thorough and comprehensive.
The book begins with basic business essentials such as writing a business plan and getting business cards, and then outlines five different strategies for making money from your knitting skills.
Originally written in 2008, I'm not convinced that there have been any updates even though the sales letter offers updates as one of the bonuses!  Several of the websites she cites as success stories are no longer live.  In one case I discovered that the knitter in question had died in 2010.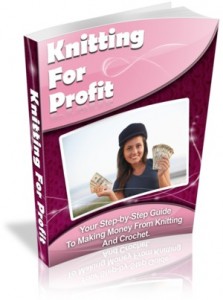 That said however, the book is stuffed full of ideas to start you thinking about what you can do to stand out from the crowd and make your knitting profitable as well as pleasurable.
And, in addition to ideas of what to knit, Liz Raad also covers the marketing essentials – how to price your work and how to promote it effectively.
The last couple of chapters cover Time Management and Record Keeping, both vital aspects to running any successful business.
I would rate this book with 4 out of 5 stars.  She would have got 5 stars if all her examples had been live websites.
The Secrets of Knitting for Profit is available from Knitting For Profit.
Send in your Questions
Just a reminder – I would love to answer your questions in future Knitting Know-How Newsletters so please, add your comments and questions below.
Knitting Know-How Issue #2