Simple Alphabet Design Pattern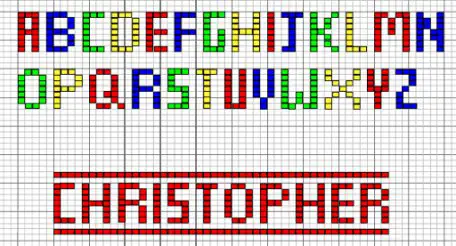 Some time ago I was asked to design and knit some bobble hats for a local running club. They wanted the club name written out round the edge.
So I came up with an alphabet which can be used for any names at all by combining the letters as you want them.
You may download the alphabet design here (Open, right click and Save As).
Warning! It is not very wise to spell out your child's name on any knitwear as it could enable a stranger to use their name to gain their confidence. Think safe! There are lots of other ways you can use the alphabet.
Simple Numbers Design Pattern

All the numerals you're likely to need, and they match the alphabet in size.
You may download the numbers design here (Open and right click and select 'Save As').