For a DVD with full instructions on how to knit check out my DVD on How to Knit.
There are lots of things to consider if you are left handed and want to knit. One of the major problems you will find is that all knitting patterns are written for right handed people. If you choose to knit truly left handedly then you will need to reverse all the shapings given in a pattern, and read any pattern charts in reverse.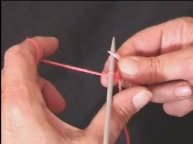 The first consideration then, is do you really want to knit left handed at all? Or would you just rather hold the yarn in your left hand? This is continental knitting and is the way I knit – take a look at the how to knit videos to see whether this could work for you.
If you are very left handed then you may well decide that reversing all the shaping directions is a small price to pay for being comfortable with making the stitches. To help you I have created some videos that show a left handed lady knitting in a left handed way. Look at the left handed knitting videos at the bottom of the videos page to see the knitting in action.
If you are an experienced left handed knitter and would like to add any hints or tips to those just starting out then please email me and I will update this article.