In this post, you can find the detailed instructions on how to knit a bear paw hat. This is a rather difficult pattern with intarsia knitting, so I would advise you not to attempt it until you are very confident in your knitting skills.
This pattern requires intarsia knitting skills. If you are not familiar with this technique, check out our article including video here.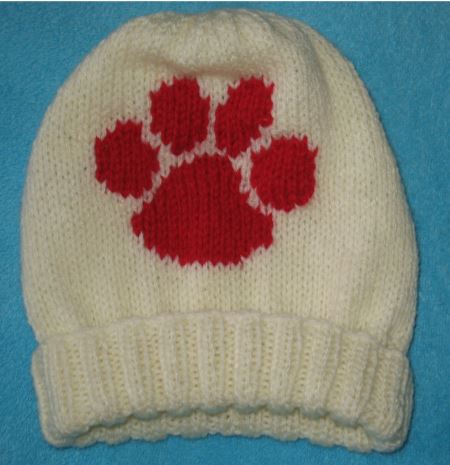 Basics
Abbreviations
K – knit
P – purl
K2tog – knit 2 stitches together
Bear Paw Knitting Chart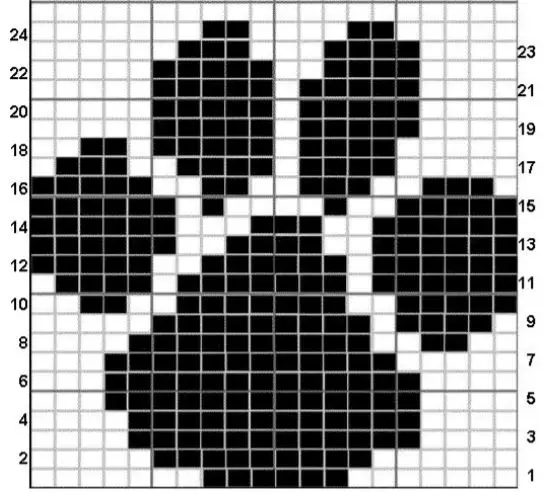 Here is the knitting chart for the bear paw. I'd recommend printing it out and marking every finished line accordingly.
Knitting Instructions
Cast on 82 stitches using smaller needles
K2, p2 rib for 4 inches (10 cm) ending with a k2,p2 row
Work 8 rows stocking stitch (knit 1 row, purl 1 row)
Knit 31 stitches, knit 20 stitches from chart row1 (see page 42), knit 31 stitches
Continue in stocking stitch working from the chart over the central 20 stitches.
Work 8 rows stocking stitch (stockineete)
Next row: [k2tog, k2] repeat to last 2 sts, k2tog
Next row: purl
Next row: k2, [k2tog, k1] repeat to last 2 sts, k2tog
Next row: purl
Next row: k1 [k2tog] repeat to end of row (11 sts remain)
Cut yarn leaving 15 inches (45 cm) or so
Thread yarn through all the stitches on the needle and pull up tight
Sew in firmly and sew up seam. Remember the ribbing will be turned up, so you might want to sew it up from the other side of the work.
Finish off all the loose ends and close up any holes in the design as you do so.