Inspired by the Patchwork Knitting workshop last weekend I've now embarked on a new project. This is going to be a waistcoat with pointed fronts using the chevron technique we learned at the weekend.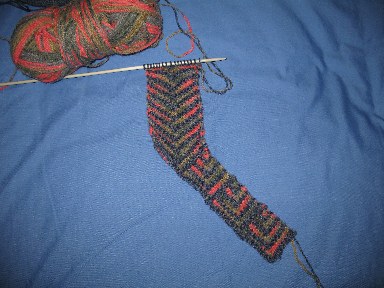 As you can see there are 3 mitred squares going up from the point and then I'm knitting a chevron stripe up to the armholes. The next piece will be from the right hand side of the first mitred square, up in a diagonal for two mitred squares and then another chevron stripe joined in to the first one.
That explanation doesn't sound very clear so I'll post another picture when I'm on the next piece.