Lace knitting produces delicate fabrics with decorative holes. The all over patterns are always a combination of holes and decreases to create different effects. The holes are always created with a yarn over paired with a decrease. The yarn over gives an extra stitch so the decrease is necessary to keep the work straight.
To create a yarn over, make as if to knit the next stitch but without putting the right hand needle through any stitch. Just pick up the yarn, so it forms a loop over the right-hand needle. Then work the following stitch as normal – if it's a purl stitch you will need to bring the yarn to the front of the work before working the stitch. Make sure the yarn over doesn't come off the needle as you bring the yarn to the front of the work.
On the following row you will work the loop as if it is a stitch, either knitting or purling depending on the pattern.
This video gives a great overview about how to knit laces:
Tip: When you are knitting lace patterns it is very important to keep checking you still have the right number of stitches on your needles as it is only too easy to miss a decrease and make more and more stitches with the yarn overs.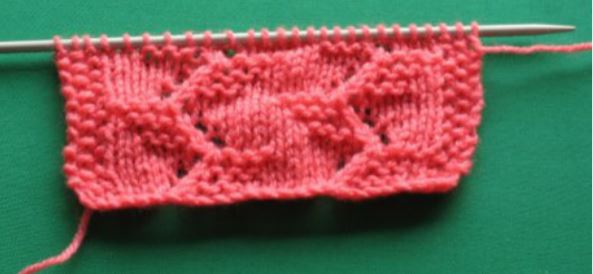 Knitting Decorative Holes – Lace Knitting