From this…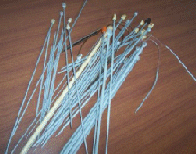 Do you keep your knitting needles in an untidy heap? Can't find a pair the same when you need them? If you're anything like me you will have lost knitting needles down the side of the sofa or at the bottom of your knitting bag. And it's worse with double pointed needles that slip into the most unlikely places.
I swear they walk!
But not any more.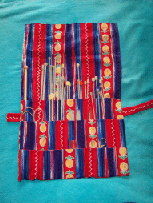 … to this
Gone are the days when I can't find a pair of knitting needles for the latest project so I have to go and buy another pair.
Gone are the days of rummaging in the upholstery for a missing knitting needle.
Now I keep all my needles tidily together in my knitting needle case which rolls up into a neat bundle that fits into my knitting bag with the latest knitting project.
The design has been some years in the making…
When I was a little girl I used to go and stay with my granny. She had a knitting roll that I loved playing with. I would tip all the knitting needles all over the floor and then carefully pair them up and put them back in their own slots in size order. Then I'd roll them up tightly and tie it neatly – ready for the next time I wanted to play.
Now I have based this knitting needle case design on what I can remember of my granny's old knitting roll.
I have created the pattern with clear, easy to follow diagrams showing the cutting layout and stitch lines and it is available as a pdf file for immediate download.
The cutting layout is extremely economical – you only need 21 inches of 60inch wide fabric.
And the pattern is available to you today for just $5.50 (or £3.50 if you're in the UK).
Click the button below to purchase your pattern right away.
| | |
| --- | --- |
| To purchase in US dollars | To purchase in Sterling |